Pre Press
From your desk... to finished product.
At Stan-McCallum Marketing & Design, we have the equipment, knowledge and experience to accept your digital files and process them to your exact specifications. Our commitment to quality assures that your projects will receive the attention and care they deserve.
We maintain a state-of-the-art pre-press department using the latest software available on both Mac and PC platforms. We accept your files on a variety of media, as well as via email or FTP site. Our pre-press department is environmentally safe using only a minimum of chemicals.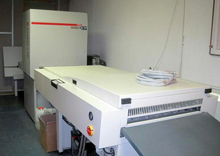 The recipe for high-quality printing requires that materials delivered to the Pressroom meet exact specifications and standards.
The right equipment and dedication for success.
Our Pre-Press Department features high-speed data transmissions, laser imaging, colour management, automated workflows plus a wealth of other equipment. Our operators are experts at what they do and work in an environment that ensures quality while maintaining an efficient workflow. We enjoy the challenges that each project brings and are dedicated to producing the best possible results for your printing requirements.